GKC at Pinkston
The Pinkston White Water Centre in the centre of Glasgow provides a great place to bring new kayakers into the sport in an outdoor environment. It serves the kayakers needs from beginners on the flat water areas through to experience paddlers on the white water course.
With these on a single location, it provides a place for people to progress through the paddling skills in a controlled environment. GKC are making the most of this facility by holding regular club nights at the Pinkston throughout the year.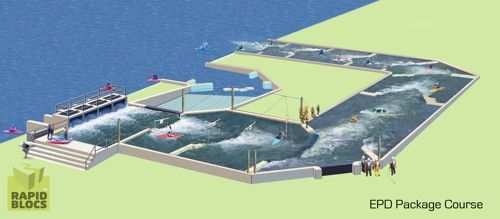 How to with get involved GKC through Pinkston…
GKC sessions at Pinkston are a great opportunity for getting involved in the club and meeting other paddlers.
Equipment & Facilities
GKC have a container at the water's edge at Pinkston where club kayaks, paddles, safety gear and wetsuits are stored. These are available for use at the club's Pinkston sessions. Changing rooms and showers are available as part of the Pinkston facility.
Membership Requirements
The club allows individuals to attend three Pinkston sessions without club membership, after which they must become full club members. This is a requirement for club insurance purposes.
Season Tickets
Season tickets are available allowing access to all GKC sessions at Pinkston for a flat rate, payable either annually or by monthly direct debit. See here for details.
Booking Pinkston Sessions
Booking for the club sessions at Pinkston is done through the Website Calendar. Select the day that you want to book for and the booking and payment is done online. Season ticket holders are requested to book online even though no payment is required.
Session Costs
Costs for each session type are:
| | |
| --- | --- |
| Session Type | Cost |
| Flat Water | £5 |
| Polo Training | £5 |
| White Water (Winter) | £6.50 |
| White Water (Spring & Summer) | £10 |